---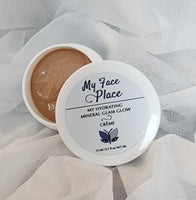 My Hydrating Mineral Glam Glow
My Face Place
Introducing our Hydrating Mineral Glam Glow: The Perfect Solution for Healthy, Glowing Hydration for All Skin Types
Are you searching for a moisturizer that not only provides deep hydration but also gives your skin a luminous, healthy glow? Look no further! Our Hydrating Mineral Glam Glow is specially formulated to meet your skincare needs, offering a lightweight and non-greasy solution that will leave your skin feeling refreshed and protected all day long.
Don't be fooled by its color; our Hydrating Mineral Glam Glow is not a makeup product. Instead, it features a blend of natural minerals that effortlessly blend with all skin tones, ensuring a seamless application and a flawless finish.
Packed with mineral-rich moisture, this unique formula combines the power of seaweed and natural Mica to provide your skin with a natural complex of pampering ingredients. The organic Aloe Leaf extract works to soothe and nourish your skin, while Jojoba Oil and Shea Butter deliver deep hydration, leaving your skin feeling soft, supple, and rejuvenated.
One of the standout features of our Hydrating Mineral Glam Glow is its natural SPF-18 protection. With Zinc Oxide, a natural sun blocker, your skin is shielded from harmful UV rays while enjoying the benefits of a healthy, glowing complexion. Say goodbye to heavy, pore-clogging sunscreens and hello to a moisturizer that multitasks effortlessly.
Our Hydrating Mineral Glam Glow is an all-natural formulation, completely free from added colors, preservatives, or fragrances. This ensures that your skin receives only the purest, most nourishing ingredients without any potential irritants. The inclusion of Mica minerals gives this cream the unique ability to behave like a super light BB cream, providing a natural matte finish with a subtle glow. It also lightly camouflages imperfections by reflecting light, giving your skin a flawless appearance.
Key Ingredients:
Organic Aloe Leaf: Known for its soothing properties, organic Aloe Leaf extract helps calm and hydrate the skin, leaving it feeling refreshed and rejuvenated.

Jojoba Oil: A natural emollient, Jojoba Oil deeply moisturizes the skin, providing long-lasting hydration without clogging pores or leaving a greasy residue.

Shea Butter: Renowned for its rich moisturizing properties, Shea Butter locks in hydration, promoting soft and supple skin.

Zinc Oxide: As a natural sun blocker, Zinc Oxide shields your skin from harmful UV rays, preventing sun damage and maintaining a youthful complexion.

Lemon Peel Extracts: Bursting with antioxidants, Lemon Peel Extracts help brighten and revitalize the skin, promoting a healthy and radiant appearance.
At our shop, we prioritize quality and sustainability, ensuring that our products are ethically sourced and environmentally friendly. With our Hydrating Mineral Glam Glow, you can indulge in a luxurious skincare experience while also taking care of your skin's health and the planet.
Experience the transformative power of our Hydrating Mineral Glam Glow today and unlock the secret to healthy, glowing skin. Treat yourself to the ultimate hydration and protection that your skin deserves. Shop now and discover the beauty of natural, radiant skin!
extracts.